Everything You Need to Know About the New MacBook Pro
Just a week and a half before Apple's massive Worldwide Developers Conference on June 3rd they have silently announced New 2019 MacBook Pro out of the blue.
And the updates aren't gigantic as there's no new screen sizes or anything too exciting. What has changed is the processors inside of 8th and 9th generation Intel. They're going to be a lot faster than the previous generations.
Both the 13-inch and 15-inch have Apple's new 4th gen butterfly keyboard which they claim are an improvement on the 3rd-gen keyboard which still has issues after Apple added the silicone barrier to protect it.
And Apple thinks that after four attempts they may have finally nailed the MacBook keyboard and made it so it doesn't break on everybody.
So for those who have been holding off on a MacBook Pro because of the failing keyboard, it may now actually be fixed once and for all.
Price of New MacBook Pro in India
The price of the New Updated MacBook Pro is the same as it was for the previous versions. The 13-inch base model with Touch-Bar starts from ₹1,59,900. And the 15-inch MacBook with Touch-Bar starts from ₹1,99,900 in India.
Design
Everyone's been waiting for a complete redesign with thinner bezels and we, unfortunately, have to wait even longer.
And if Apple was planning a redesign for some time this year they wouldn't have upgraded the MacBook Pro right now.
So design wise the new MacBook Pros are the exact same as it was in 2018, as 2017 and as it was in 2016. The only main change is in the keyboard.
The look, feel and sound of the new Keyboard is supposed to be identical but Apple claims that with this new keyboard they have reinforced the materials used in the butterfly mechanisms so that it will be significantly less likely to break or get stuck and will have no type issues that the MacBook Pros have been plagued by, since Apple redesigned them in 2016.
New Updated Internals
13-inch MacBook Pro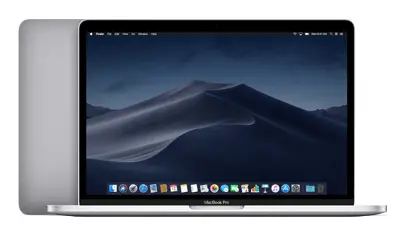 For the 13-inch MacBook Pro, the only change is a speed increase on the base models.
From 2.3 GHz base clock to 2.4 GHz and from 3.8 GHz turbo boost to 4.1 GHz, which isn't too big of a change but you're getting it at the same price as before.
The 13-inch MacBook Pro is still stuck on Intel's 8th gen processor instead of moving on to 9th gen.
Well taking a look at Intel's 9th gen product page it seems as though none of those processors come with their premium Intel Iris+ graphics, which is a must for 13-inch models as they lack dedicated graphics chips.
Other than the processor and keyboard upgrades literally nothing else has changed which is the most disappointing part.
The configurable i7 upgrade bumps you up from 2.7 GHz base to 2.8 GHz and from 4.5 GHz turbo boost to 4.7 GHz, which we don't think is worth the cash.
If you're spending that much just go for the 15-inch model which includes a dedicated graphics chip in a newly updated Intel 9th Gen 6-core processor that gets a much bigger boost in performance
The base CPU goes from 2.2 GHz base clock to 2.6 GHz and turbo boost goes from 4.1 GHz to 4.5 GHz. Now that's a huge difference considering it is priced the same as before for the 15-inch model. So for those who waited, you're gonna get a lot more value.
15-inch MacBook Pro
Moving up to the 15-inch, it has identical pricing to how it was last year.
You're getting a 2.6 GHz 6-core 9th generation Intel Core i7 processor with turbo boost to up to 4.5 GHz, so definitely more power there.
It also comes with Radeon Pro 555X with 4 GB ram and then also 16 GB of normal ram and 256 GB of flash storage.
You can now upgrade to the first ever 8-core i9 Intel processor in any MacBook and it can turbo boost up to a massive 5 GHz which will be totally worth it for anyone who can actually use those extra cores for raw video editing.
With these high-end specs, it will be amazing to see how this new MacBook pro handles heat management and thermal throttling as the previous versions were not able to apprehend the heat which was then fixed by a software update by Apple.
No 16-inch MacBook Pro this Year
So it seems like we're going to be waiting until next year for a redesign and there's still no word on the rumored 16-inch MacBook Pro.
So there's a chance if the new model will have the new redesign and will come next year.
It will make more sense for Apple to redesign the iMac first, starting with the iMac Pro potentially this year and then redesign the MacBook Pro afterward.
For More Information, head over to the Apple Website: https://www.apple.com/in/macbook-pro/