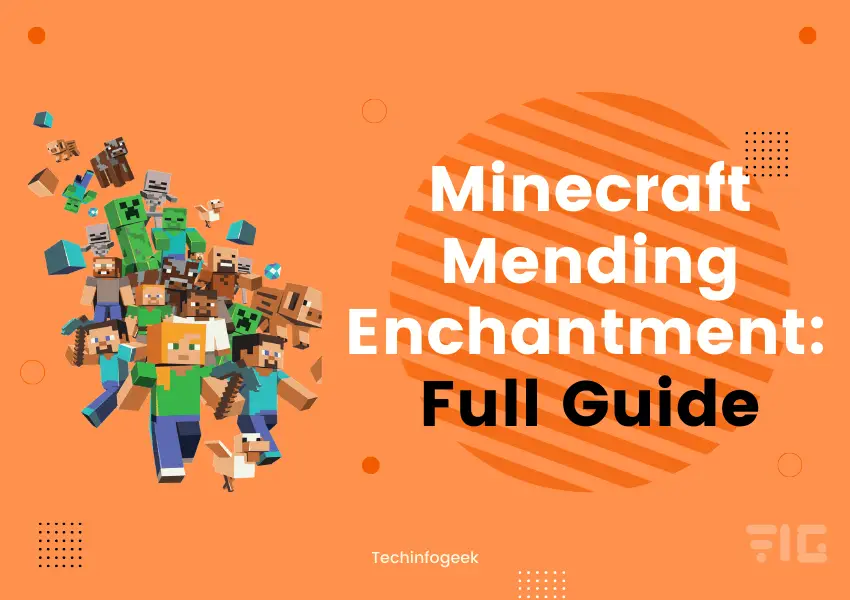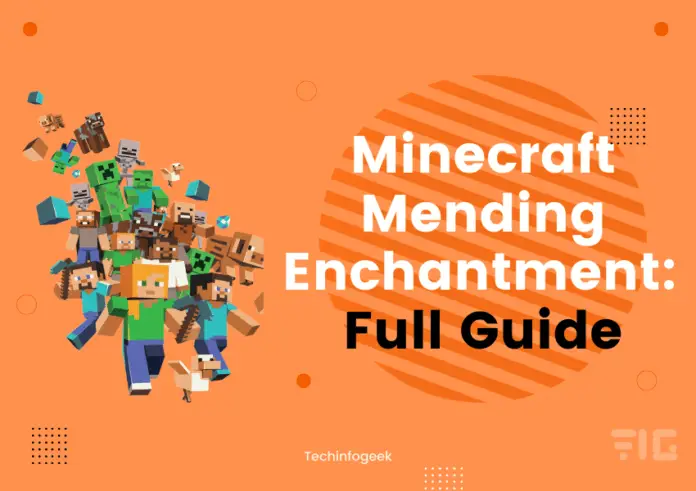 Minecraft is full of powerful enchantments, which grants you the ability to survive in the game for a more extended time as well as enjoy the game.
Minecraft Mending is one of that unique, powerful Enchantment through which you can repair your enchantment items with your XP (experience).
As it is a rare enchantment, it is tricky to conjure or find it.
But if you are a skilled player or have been playing the game for a while, it is effective getting it, as it greatly assists you in upgrading your armor.
Here are useful tips in our Guide of Mending items in the Minecraft game.
What Does Mending Do in Minecraft
Typically, you would have to combine the core material of a tool at an anvil to repair it, whereas Mending repairs the items in a distinct manner.
Mending is an enchantment that enables you to increase an item's durability using your game XP or experience orbs.
For example, if you want to repair any tool, armor piece, or weapon, then your experience orbs are going to be utilized towards repairing that item.
It is one of the most useful enchantments in Minecraft if you own many diamonds as it is going to help you to increase your endurance or strength by sacrificing your experience.
If you have a Minecraft Mending Enchantment, then it can be applied to any item like your Axe, Boots, Trident, Sword, etc.
How to Get the Minecraft Mending Enchantment
As we have already said, Minecraft Mending Enchantment is challenging to find as it is the rarest of enchantments in the game since it is a Treasure Enchantment, and you can't find it in the Enchantment Table.
You can look into Temples, Dungeons, Villages, and many other places for Chest Loots to find the Mending Enchantment, but it all comes down to if you are lucky enough to find the Enchantment in these places.
You can also find it randomly while fishing or raiding.
Another way to possibly find it is in the Villager trading if someone is up for selling the Enchantment.
There is only one level to the Mending Enchantment, unlike all the other enchantments that progress to many levels.
How to Use Minecraft Mending Enchantment
Using a Mending Enchantment is easy & straightforward. First, find the item you want to mend with the Enchantment book.
Then, place the item, tool, or weapon in the first box of the Anvil, and put the Enchanted Book in the next t box, after the "+" sign.
For example, if you want to use the Minecraft Mending Enchantment on an Axe, then place the Axe in the first box and the book in the second box.
Some Charge for the Enchantment is going to get deducted from the item as it may go down a level or two.
Then, pull the mended enchanted item from the Anvil to your inventory.
Next time, if you have equipped your item, then it is going to get automatically repaired using your experience orbs.
also read: Minecraft Curse of Vanishing
Useful Tips for Mending an item in Minecraft
Some valuable tips for Mending are mentioned below, which would help you in understanding the process of enchanting an item with a mending book even better:
1. Mending Enchantment is a "Treasure Enchantment"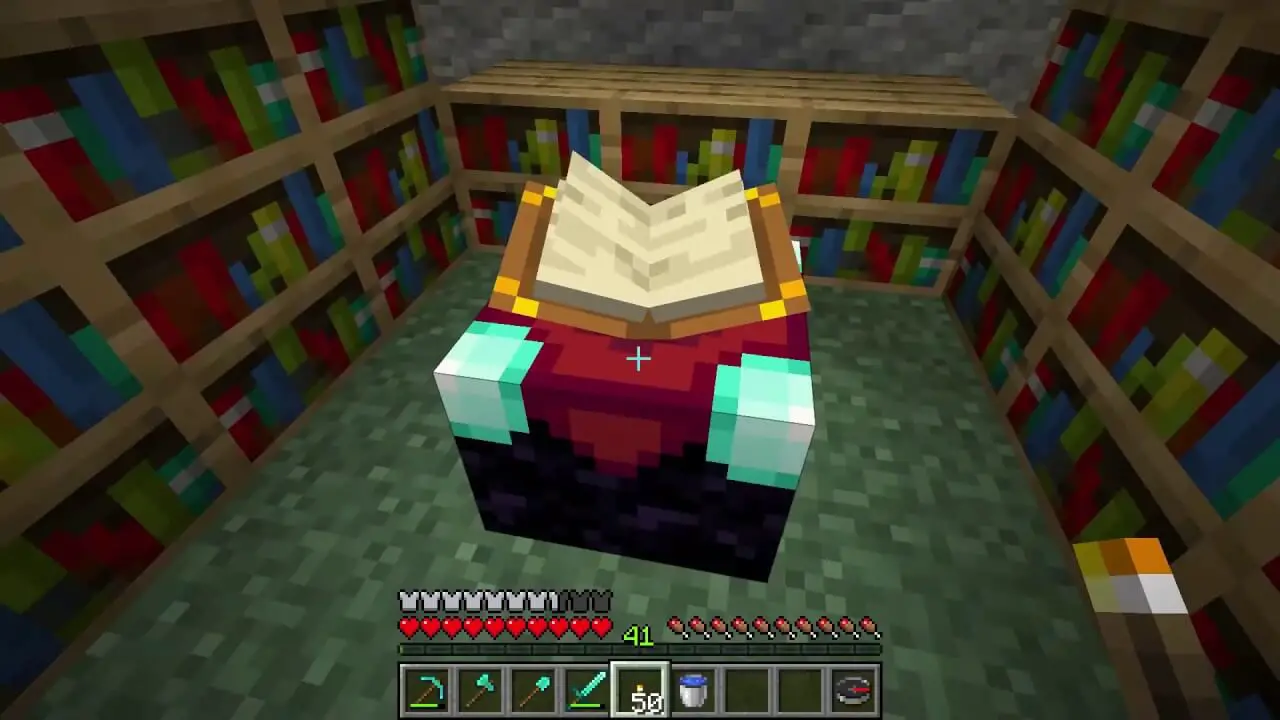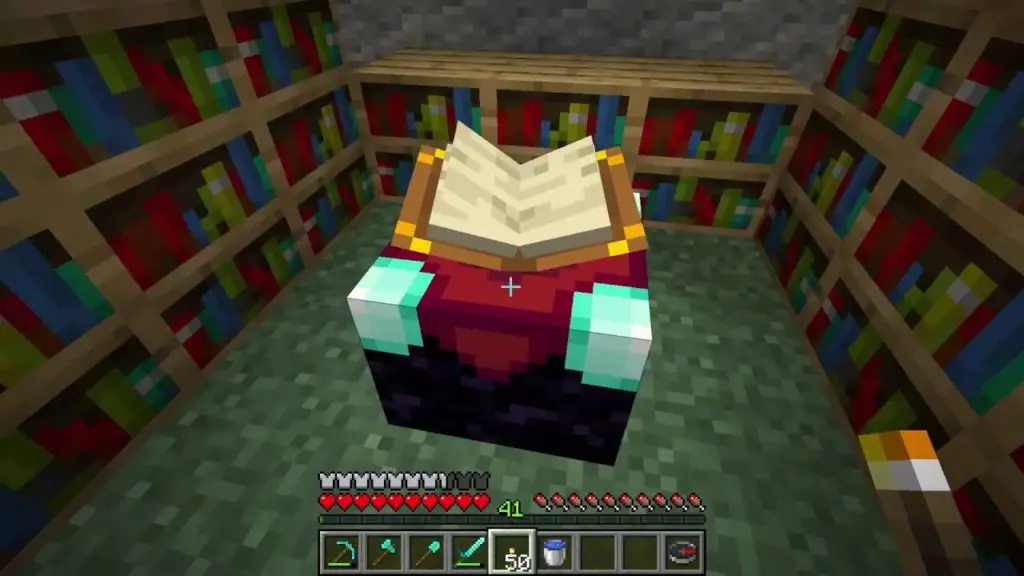 A Mending enchantment book is a "treasure enchantment" that is rare to find in the Minecraft world.
You would have to look at several places before finding this enchantment book as you can not conjure it from the Enchanting Table.
It is a unique enchantment that does not require you to be of a certain level to obtain it as it is a Treasure for players to find.
As in Minecraft, various powerful enchantments require you to be at least a Level 30.
2. Minecraft Lectern Method
For this method to work, you need to find one villager with one Lectern. When you put a Lectern down, a blank villager without a job will change into a Librarian.
This method is secure if you have one of each, one Lectern & one Villager because then you can easily connect that particular Lectern to only one villager.
If you make any changes, then you wouldn't have to run around looking for the Librarian that is affected. (you can find a village where you get both in a closed room, or you can put a Villager in a closed room)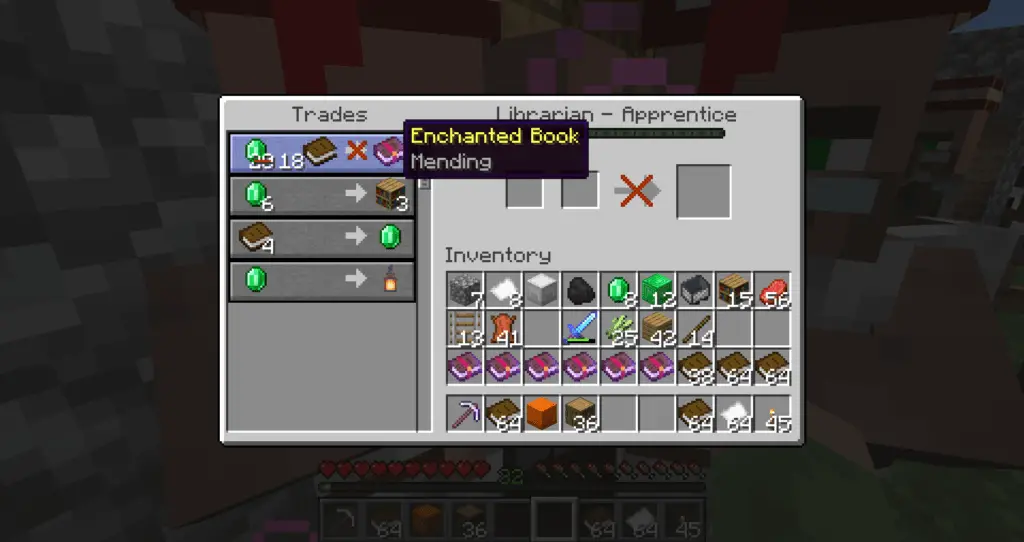 Now, you have to put the Lectern and see the items the Librarian has so as to look for the Mending Book.
But if you do not get the Mending Enchantment, then pick up the Lectern and put it down again, and look for the Minecraft Mending Book.
You have to repeat this process until you find the Mending Enchantment Book.
It is a proven method to acquire the Mending Enchantment, but it may take you a lot of tries before you find any success.
Watch the video below as it would help you in understanding the Lectern Method.
3. Fishing Method
Fishing is also an easy way to find the Minecraft Mending Enchantment Book.
But you must have an excellent Fishing rod to obtain the rare book as with a regular fishing rod; you'd be sitting for hours before getting anything useful.
You must enchant your fishing rod, before putting it in the pool as it is going to increase your chances of getting useful items from the sea or river.
The best time to get more enchanted items from the river is when it is raining as it increases the chances of you getting things.
Watch the video below as it would help you understand getting powerful enchantments from Fishing.
4. Chests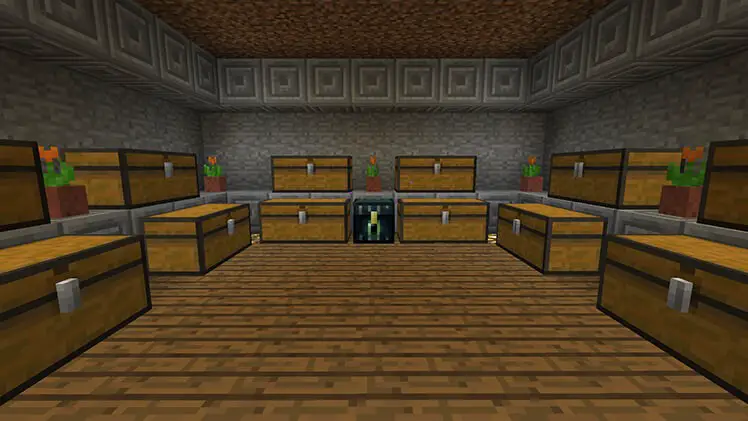 Exploring Chests in different parts of the Minecraft world like dungeons, mineshafts, temples, etc. is also going to ensure you of getting powerful enchantments like the Mending Enchantment.
However, finding the Mending Book is not going to be convenient from these chests.
You may have to go to the desert temples and find the four chests below the bottom floor; then, you have a better chance of getting the Enchanted books.
5. Woodland Mansion
You can find the Mending Enchantment at the Woodland Mansion in the Minecraft game.
The only problem is that it is far away, and it is not guaranteed if you will get the Mending Enchantment or not.
These buildings are far away, and they do pop-up very rarely, which doesn't make it an ideal place to find the Mending book, but if you happen to cross any Woodland Mansion in the Minecraft world, then do look for hidden enchantments in this structure.
Hope, this article helped you in understanding and getting the Minecraft Mending Enchantment in the game.
If you have any questions, then you can always ask us in the comments section below.