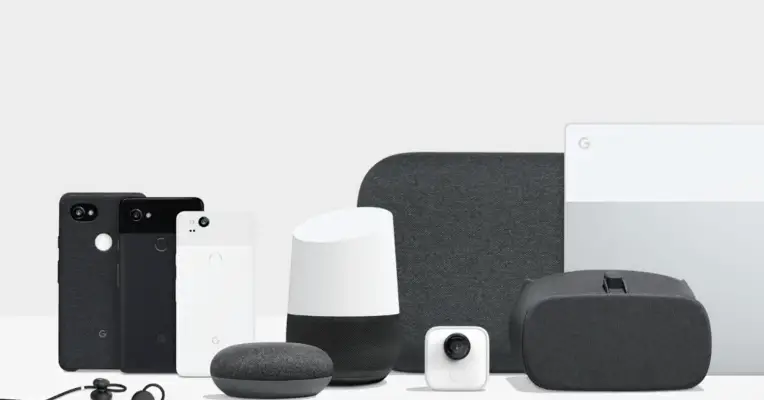 Google announced their new phones today at the Google Pixel Press Conference held in San Francisco with surprising new products as well. Here is Everything Launched at the Google Event 2017.
Google Home Mini
First product announced was the Google Home Mini which is the size of a donut, but has all the features of Google Home. It is packaged in fabric with Home's indicator LED's hidden underneath the surface. The Google Home mini will be shipped at $49 & comes in 3 colors, namely coral(orange), chalk(gray) & charcoal(black) on October 19th.
Google Home Max
Next product announced was the Home Max. It is Google's reply to the Apple's HomePod. It has a rubber base and can stand horizontally or vertically. You can connect it via Bluetooth, Cast or Aux Cable. It will be coming in chalk(gray) or charcoal(black) and start shipping it in December at $399.
Broadcast
The new "Broadcast" feature will help in making house-wide announcements if you have a bunch of them lying around the house.
The 2nd generation of Google Home comes with a lot of new features like:
Now you can call through Google Home Hands-free (currently available in the US and Canada)
The Phone Calls through Google Home can come from your Personal number once you have confirmed your number with the Home app.
Google Home Phone calls will be coming to Uk.
It will launch in Japan with Japenese support later this week.
Nest getting Chromecast support
The Nest is getting voice-enabled gestures and controls. If you have Nest Cams & Google Home installed around the house, you can simply ask Google to show you who's at the door or show me the living room which can be seen on the nearest TV.
Google Pixelbook
Google surprised everyone with launching a convertible "four in one" Pixelbook. You can use it as a laptop, fold into a tablet or simply flip & use the keyboard as a stand or base.
It's 12.3 touchscreen which is 10mm thick and weighs about 1kg. The Pixelbook will be customizable with i5 or i7 processors with up to 16gb of RAM and 512GB of SSD.
The base model will cost $999 and will start shipping on 31st October.
You can also buy the newly introduced Pixelbook Pen which will be $99.
Pixel 2 & Pixel 2 XL
The newly introduced Pixels are the Pixel 2 & Pixel 2 XL which comes with 5 inches & 6 inches of screen sizes respectively. Both Pixels have an aluminum body with a curved OLED display, front-facing stereo speakers and fingerprint sensor on the back. Both come without the headphone jack (satisfyingly) and are IP67 water/dust resistant.
With the new "squeeze" functionality you can launch the Google Assistant with a little squeeze on the side.
This time the DxoMark rating of the Pixel's camera is 98 compared to 89 of the 2016 Pixel. It is the highest rating compared to any other smartphone of 2017. The camera has "Portrait Mode" on both, the rear as well as the front camera. This generally requires two cameras – one focussing near, one far. But Google has figured out how to do it with just one camera, using AR & Machine Learning, allowing portrait mode to work on both the rear or the front camera.
AR Stickers
Google's new "AR Stickers" lets you drop 3d models into the camera view. They demonstrated it with putting Eleven from Stranger Things in the same room as a Demogorgon and having them fight it out.
Daydream VR Headset
A new Daydream VR Headset was also introduced following the 2016 Daydream headset.
The new Headset brings a wider field of view.
Google Pixel Buds
Google introduced the first ever Wireless Earphones called the Google Pixel Buds.
These are no regular earphones as they can translate over 40 languages on the fly. The Pixel Buds are fairly priced at $159 and will come with a charging case that can add up to 24 hours of usage. Pixel Buds will start shipping in November.
Google Clips
The last announcement was the Google Clips. It's a camera that clips onto whatever; your clothes, your bike or anything else nearby.
But the exciting part is you are not manually taking pictures with it. It is using machine learning(all on its own) to take pictures or record videos automatically. It will decide on its own when to take snaps detecting the scene & recognizing people.
Google Clips is priced at $249 and will be launching soon.
Read : New Best Android Games October 2017