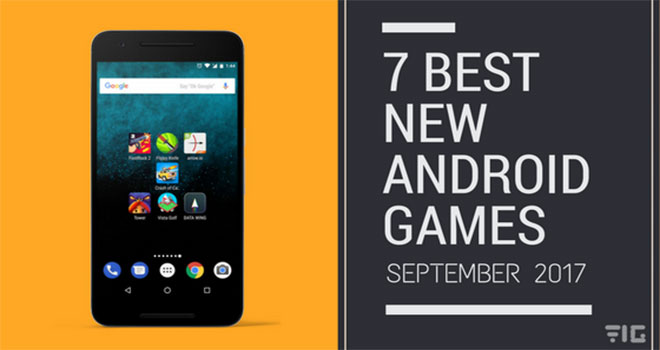 Every Month hundreds and thousands of apps & games are submitted to the Play Store. And it is our responsibility to pick the best ones and share it with you. Each month we will be featuring the New Best Android Games & iOS Games directly to our Newsletter, so don't forget to subscribe.
Here are the 7 New Best Android Games September 2017 in no particular order:
NEW BEST ANDROID GAMES
Flippy Knife
Flippy Knife is one of the Best Grossing & highly rated game on the Android Play Store. Flip a Knife in the Forest! And become a Master of Knife Flipping using the best knives from all over the world. Really fun & easy offline game to play on the go!
Crash of Cars
The Best PvP game on our list is Crash of Cars.
Crash of Cars is an Online Real-Time Multiplayer game where your goal is to collect as many crowns as you can before others destroy you. You can also create your own Private Group where you can invite & play with your friends. If you are looking for a new fast paced PvP action game than this is it!
Arrow.io
Arrow.io is the type of game you think you'll play for five minutes, but when you look at the clock, you realize you have been blissfully playing the game for hours without noticing the time pass. Play instant multi-player battles using arrows to defeat the opponent. You'll enjoy this game no matter what!
FootRock 2
FootRock 2 is the most psychedelic action first-person arcade game. This is a cleverly designed game with the great concept & unique gameplay. This is a must-try if you are a looking for something new & amazing.
Once Upon A Tower
The next game on our list of the Best New Android Games is Once Upon A Tower.
This is an action packed game which looks to be easy at first but it's not. In this game, you have to beat through the walls and escape the High Tower which is guarded by a Dragon!
Data Wing
Data Wing is an unusual racing adventure with intuitive controls and sleek racing gameplay with a focus on thrusting off walls. Amazing intriguing gameplay with excellent soundtracks completes the game.
Vista Golf
The next game on our list is Vista Golf. It is a simple but elegant mini golf game which is defined by its crisp controls with the endless competition of new courses every week. Relax and play as much as you'd like in the infinite mode with slightly-larger than the regulation-size endless course.
This is our List for the Best Android Games for September 2017. Hope, you liked the featured Games! We would like to know what games you all are playing in the comments section below!
Follow us on Facebook, Twitter, Instagram & subscribe to our Youtube Channel.
If you want to know more about us, then go to our About Us page.